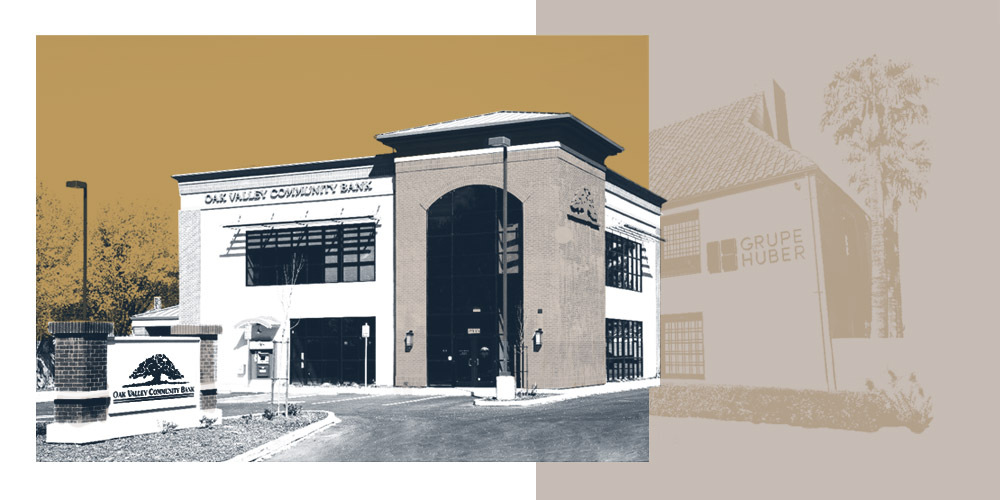 Oak Valley Community Bank: A Partner with a Can-Do Spirit
Grupe Huber loves a good challenge. But to turn challenges into opportunities, we need a partner that sees potential in our vision and can be trusted to follow through every step of the way. Luckily, we found that partner more than 10 years ago in Oak Valley Community Bank. 
Our relationship with Oak Valley began in 2008, when University Park was in the midst of a major redevelopment. This was a complex project with layered leasehold interests involving multiple municipalities. It involved public and private partnerships and was extremely high profile. In other words, it wasn't just a challenge — it was a twisted knot of challenges. To see this project through, we needed to partner with a bank that had the stamina to underwrite this complex credit facility and provide construction and term financing for future developments. 
Oak Valley met us where we were, helped us untwist that knot, and inspired us to see how we could get to the next level. We forged a relationship based in trust and support, and over the years we've been able to truly collaborate with Oak Valley thanks to their clear communication and easy rapport. 
"The people who lead Oak Valley Community Bank share our values, and that has made our work together that much more invaluable," Kevin Huber says. "Without their open minds and enthusiasm, their can-do spirit and belief in what we do, I'm sure we wouldn't have been as successful as we have been. Their support has been invaluable to us." 
The feeling is mutual, according to Cathy Ghan. "The collaborative effort from each of us — from the top down — contributes to the whole," she says. "We stay attuned to what is happening within and outside of the relationship and have open communication on possible impacts to our respective businesses. We pay attention with an open mind and have strong internal support systems to carry out our goals and objectives. We also share in each other's celebrations."
Those celebrations have included the success of University Park, which has become more than a business campus — it's now a beloved Stockton landmark. Oak Valley has financed eight projects within University Park, from the parking lot to the new Grupe Huber headquarters in the Spruce Building. 
"There is nothing more inspiring and motivating than to watch the progression of UP over the past 12 years, and to know that OVCB was a catalyst in this growth … one building at a time," says Cathy Ghan.